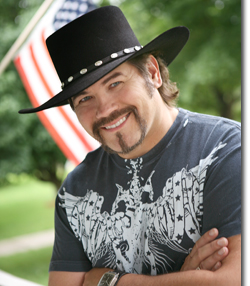 America chose Arkansas native Buddy Jewell as the very first winner of the USA Network's hit reality show "Nashville Star". Buddy was the true viewer favorite from the very beginning, capturing 65% of the nationwide voting and beating out 11 other contestants, most notably, Miranda Lambert, by over 2 million votes on the final episode. He and America have been involved in a love affair ever since.
After Buddy's win, Columbia Records released his self-titled debut album "Buddy Jewell" which debuted at #1 on the Billboard Top Country Album charts, as well as #13 on the Top 100 Pop Album Charts. The album was certified Gold later that same year, selling nearly a million copies. Buddy's first two singles, "Sweet Southern Comfort" and "Help Pour Out the Rain (Lacey's Song)" both landed in the top 5 on the singles chart and are RIAA certified One Million Plays. Jewell has since followed up with 5 more albums, "Times Like These," "Country Enough" , "I Surrender All", "Wanted : LIVE "and his newest release, "My Father's Country."

To Book Buddy Jewell, Contact:
Agent
Dr. Gerald Murray

Cell: → [256-710-0029]


Email:  doctormkt@aol.com


Agent
Terry Munson

Cell: → [217-412-3676]


Email:  recrdpromoter@aol.com


The year that followed his win on Nashville Star was truly a dream fulfilled for Buddy. He earned major award nominations from the ACM for "Best New Artist", the CMA for the "Horizon Award", their version of the Best New Artist of the Year, and a Grammy nomination for his participation in "Amazing Grace III", a special gospel project. He was also named "New Artist of the Year" by the prestigious ABC Radio Networks.
In April 2005, Buddy was honored by the National Fatherhood Initiative as a recipient of their annual Fatherhood Award. Recipients of this award are individuals who exemplify the ideals of involved, responsible and committed fatherhood. First Lady Laura Bush spoke at the event. In 2011, Jewell was named "Entertainer of the Year" and "Crossover Artist of the Year" by the International Country Gospel Music Association. Most recently, in September 2015, he was inducted into the Arkansas Entertainer's Hall of Fame, taking his place alongside music legends Johnny Cash and Glen Campbell.
Buddy Jewell's voice is the voice of experience. It has a friendly, "lived in" quality because, as the old saying goes, he has "been around". Born to a working-class family in Arkansas, Jewell has been singing for his supper since the age of 21, from coast to coast. He has also driven a beer truck and worked as a nightclub bouncer. Buddy knows the meaning of hard work and perseverance.
Having shared the stage with the likes of Tim McGraw, Faith Hill, Brooks and Dunn, and ZZ Top, Buddy Jewell is a well-rounded performer, a true entertainer, and an absolute crowd pleaser. Book Buddy Jewell for your next show now.